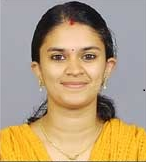 Arya Krishnan

7 years of research experience in the field of finger vein biometrics.
Worked as a research associate at Center for Research and Innovation in Cyber Threat Resilience (CRICTR) during 2015-2017.
Worked as a research associate under the Centre of Excellence in Pattern and Image Analysis project (CEPIA 2017-18), which is funded by Kerala state planning board.
Women scientist under the fellowship project sanctioned under Back-to-lab fellowship for Women by KSCSTE, GoK during 2019-2022.
Served as a teaching assistant for MPhil, MSc courses for two years. Handled lab and theory classes of the elective subject "Biometric for Security" for third semester MSc Computer Science and Information Technology students at IIITMK.
Assisted in guiding MPhil and MSc final year projects.